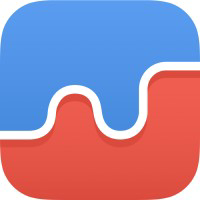 Shuff
Shuff is not only a messenger, it's a new way to communicate, either with friends or strangers.
Posted
Saturday, July 11, 2015
Communicate now with Shuff, the messenger ahead of its time! Shuff gives you many ways to stay in touch with your friends. Communication has never been so fun, simple and private. See in real-time what they're writing to you, letter by letter. Watch, as they type. Hurry your friend to answer you by "pulsing" them. Shuff is an app with no history. Only the last sent message of your conversation appears. But you can "favorite" a message with an up-swipe, and find it later in the Favorites menu. Create masterpieces with your friends in the Drawroom. Everyone can draw on the same board, using different brushes and colors. You can also share your best pictures. Shuff your messages! You can choose to mix the letters of each word, all but the first and last letter. It's fun decrypting messages, and provides more privacy from prying eyes. If you like, you can send shuffed messages via text or Whatsapp or post it to Facebook or Twitter.
Tags
Give Shuff some love: