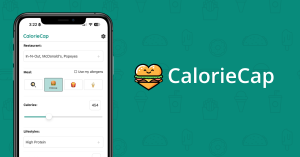 CalorieCap
CalorieCap finds meals from restaurants that match your personal diet or lifestyle.
Posted
Thursday, June 16, 2016
CalorieCap is a tool used to help find meals from restaurants that match someones personal diet or lifestyle needs. CalorieCap allows you to skip the hassle of scouring a websites nutritional menu to find the few items that fit your needs. Simply set your calorie slider and search for meals.The customer is anyone who is tracking their calories but still wants to be able to go out for a meal and adhere to their caloric restrictions.
Tags
Give CalorieCap some love:
comments powered by